21 Nov, 2018
Thank you very much for AgileTD 2018
The whole AgileTD team wants to thank everyone for attending and participating in our 10th anniversary edition of the Agile Testing Days 2018 in Potsdam from November 11-16, 2018. The time passed too quickly and you made AgileTD's birthday very special!
The Agile Testing Day were again packed with many talks, activities, interesting conversations, opportunities to network and socialise and really good vibes. We loved seeing all attendees and speakers getting together to share their stories, networking, learn together and grow. It was fabulous!
A special thank you goes also to our amazing sponsors, who brought so much life to our expo area that it was sometimes difficult to get through! Also thank you to Sauce Labs, Saxonia Testservices, Perfecto Mobile, Applitools, Mentopolis CSC GmbH, SmartBear, Thoughtworks and eBay for their great vendor talks on test automation, managing biases, distributed teams, visual UI testing and how to solve bottlenecks and much more.
Congratulations again to Alex Schladebeck from Bredex GmbH for being MIATPP 2018. After reading out her own laudatio, written by Huib Schoots, at the MIATPP Award Party, she received the Award for being the Most Influential Agile Testing Professional Person. Well deserved!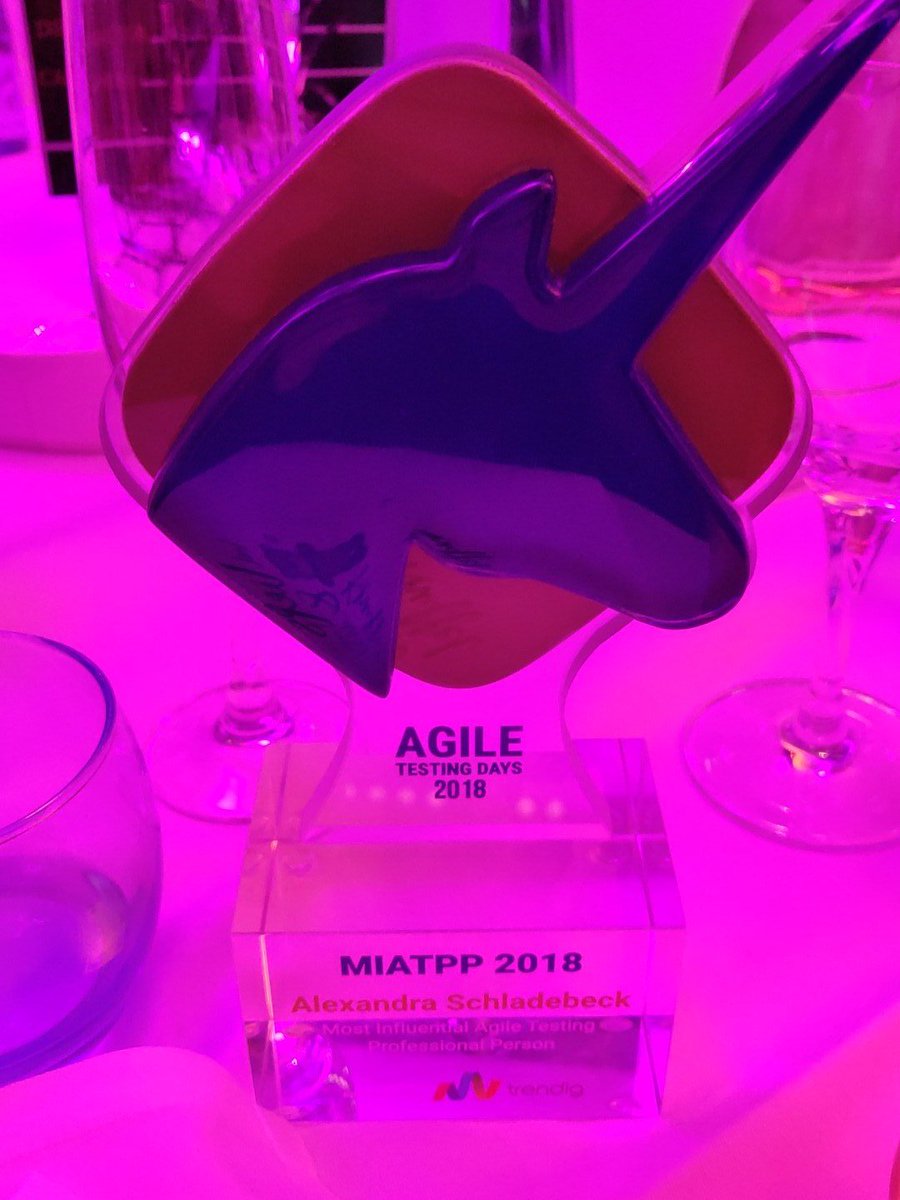 Don't forget to rate the sessions. You can access the rating by clicking on the sessions you have attended. Your feedback is highly welcomed and appreciated by the over 200 speakers.
So thank you again for this wonderful agile testing festival and remember: After the conference is before the conference. The next Agile Testing Days will take place November 3-8, 2019. You can already register here!
Take care until we meet again. See you in Potsdam!
Your AgileTD organising team
15 Oct, 2018
AgileTD meets Design Lab Berlin
Our AgileTD team member Ina will speak at the Design Lab Berlin meetup at the Digital:Lab Volkswagen on October 24, 2018. She will talk about Design Sprints and that running one is not easy, but definitely worth it.
During her time with trendig, Ina has collected some memorable experiences when facilitating Design Sprints. She will share some of the most inspiring, meritable, amusing and sometimes defiant moments - not without a certain wink of irony, here and there.
Get ready for a very grounded, practical, and honest session, drawn from real life, with real people and real challenges. Forget ideal and best practice! Leave your books at home. Bring nothing but an open mind and heart and take back some stories and lightning moments for your next sprint.
To learn more about Ina's talk "Design Sprints – Hurdle Racing Challenges" and to sign up for the meetup, please visit https://www.meetup.com/de-DE/DesignLabBerlin/events/255297782/.
12 Sep, 2018
Community Talks for AgileTD 2018
The Community Talks for Agile Testing Days 2018 are out. The community selected from 17 sessions the following top six community talks:
Overcome the Obstacles of a Retrospective
by Trinidad Schmidle and Thomas Fend
Being successful in agile projects "Continuous Improvement" is essential and therefore the retrospective is a useful practice. Unfortunately, our retrospectives were not always performed as well as possible. Read more
Testing the Boundaries
by Richard Philips
In his talk, Richard Philips will focus on his role as a parent of two children and how this responsibility overlaps with his role as an agile tester. The talk is not solely aimed at parents or at testers, but rather takes hold of some of the universal truths that Richard has learned throughout his time of being a parent. Read more
Onboarding Engineers
by Milan Kujeljic
For engineers starting a new job is always stressful, because we need to go through the process of integration again, processing a lot of information in a very short amount of time, figuring out how and what tool to install, who is responsible for this product, trying to remember all the names, etc. Read more
Mind the Gap
by Morgan Ahlström
Most of us have a limited repertoire when it comes to how we respond in different situations. We limit ourselves with our comfort zones, survival stances and internal filters. But does it really have to be like this? Read more
A Guided Tour of Automation for Testers
by George Dinwiddie
Many good testers have a limited understanding of test automation, which is a shame, because it often keeps them out of discussions where their skills would be valuable. One of the difficulties of venturing into a new area is understanding the lingo. Read more
A Fundamental Ccookbook for Testing (with) Hardware
by Uros Stanisic
Challenging testing environments with hardware can help you to learn about approaches for making development process more productive, making more creative environment and deliver more reliable products to market. Let's learn about main challenges when testing (with) hardware! Read more
11 Sep, 2018
Winner announced: What happened to the code?
Everybody knows how the the story of The Three Little Pigs goes. But do you know the agile fairy tale of The Three Little Pigs and Big Bad Code? In this story told by Bart Knaack at the Agile Testing days 2017, the three little pigs were asked to program a program, and they each produced a code. The code of the first two pigs huffed and puffed and broke down. The third pig, who was really smart and knew about agile, wrote also a code. But what happened when the third pig put the code into production?
Well, that was up to you. It was your turn to comment or write an ending to Bart's fantastic agile fairy tale. And among all these funny, very creative, and sometimes dystopian endings was one ending that we liked the most. It was this one written by Fanny and it goes as follows:

"When the third little pig put the code into production, the big bad code cracked and puffed but it didn't go down. Because he had the customer and the scrum team do the testing through the sprint. But this was just the MVP, and because the third little pig needs more and different pig skills, the first and second little pig joined the team for the 2nd and 3rd MVP. This story doesn't have an ending because the customer tried to add new features after each sprint, but they worked through it as a team happily ever after."
Beautiful ending, right? Right! Therefore we congratulate Fanny for writing the best ending and winning the free ticket for the 3rd and 4th conference day at the Agile Testing Days 2018 in Potsdam, and we want to say thank you to all who contributed an ending to this fairy tale.
27 Aug, 2018
Winner of #MyTeamRocks Video Challenge Announced
Our company trendig technology services GmbH is celebrating its 20th anniversary this year. That's why from July 1, 2018 onwards, trendig will give away a gift every month. In June, you had the chance to win a free ticket worth 6,000€ for your team for the Agile Testing Days 2018. Great prize, huh?
To particpate in this contest, you just had to simply send us a video via a social media channel of your choice and tell us why your team rocks and why your team should win this free ticket.
We received so many creative, funny and brilliant contributions. At this point, we want to say thank you to all who participated in our #MyTeamRocks video challenge. It was a pleasure to learn more about your teams and the way your team works.
It was very hard for the team to make a decision. Therefore, after a first round of dot voting to find our favorite contributions, we let the goddess of fortune (aka our colleague Uwe) decide, and the winner has been selected in a very nailbiting draw.
And now we are happy to announce that Petra and her "Quality Agent" team have won the contest and free tickets for the Agile Testing Days worth 6,000€. Congratulations from the whole AgileTD team. We are looking forward to welcoming you at the Agile Testing Days 2018 and to meeting your awesome team!
*The winner has already been notified by social media to claim their prize.*
9 Jul, 2018
Say Hi to Unity and Akira
Perhaps you are new to the Agile Testing Days universe, perhaps you have attended our learning festival a couple of times now. No matter what, you might have noticed that unicorns have a very special place at the Agile Testing Days. Most of you might know the story how it happened that the unicorn became not only our spirit animal but also our signature character.

It was in 2012 when a post by Gojko Adzic went viral and started the unicorn movement at Agile Testing Days. Since that date, the agile unicorn is a vital part of the Agile Testing Days.

This year, with the 10th anniversary in mind, we decided to give the agile unicorn a loyal companion to form an agile unicorn tag team. However, sadly, both unicorns never really have been named. But that is over now.

We called the community to send us their name suggestions, and today, we are happy and more than delighted to tell you the names of our two unicorns.

Say hi to Unity and Akira. The name Unity is related not only to a condition of harmony but also means a quality of being made one from different parts. Akira means in Japanese "bright" or "clear", and in Scotland it is derived from the name "Acair" meaning "anchor". You can follow both on Twitter.

Thank you to all of you who have participated in this contest. Congratulations to the winner, who won a 2-day conference pass for the 3rd and 4th conference day (November 15th & 16th) and has been informed through email already.
22 May, 2018
Explore the AgileTD 2018 Program NOW!
Finally it is done!

We are happy, nervous and thrilled that the program for the 10th edition of the Agile Testing Days is ready for you!
Join us at AgileTD 2018, November 11-16, 2018, in Potsdam, Germany! This is where agile enthusiasts and software professionals gather from all over the world to learn, grow, and innovate together. Discover why this annual conference is widely considered Europe`s greaTEST agile software testing festival on Agile methods in software development.

Explore over 200 sessions,
get to know 100+ speakers,
dive into numerous social activities,
check out the networking opportunities and
find your favorite learning sessions.
8 May, 2018
Stephan Kämper and his Can't-Miss Keynote at AgileTD 2018
Don't miss Stephan Kämper's keynote "Testing Your Luck" at the Agile Testing Days 2018 this November in Potsdam, Germany.
Stephan studied physics, wrote his diploma thesis about holography and then joined an oceanography group at the University of Bremen. In 2001 he started in software development by joining the test team for an object-oriented database system. He never left software testing, specialised in automated software tests and agile methods. He worked on topics as diverse as precision navigation systems, micro payment platforms, healthcare related systems, telecommunication, social networks, logistics and energy providers. Working in these different fields helped him recognizing common patterns, which he found useful in software testing.
"Not everything in life is based on sheer coincidence." In his keynote, Stephan will talk about whether it is possible to influence luck and how you can test it. Based on his own experiences, he will illustrate how luck can strike and how good fortune can be influenced. His stories also provide some heuristics to help you become more lucky.
Come to the Agile Testing Days and find out why being lucky does not equal being happy or glad — but how it may well contribute.
8 May, 2018
New Can't-Miss Keynote with Janet Gregory & Susan Bligh
This year at Agile Testing Days, we are proud to have the first mother and daughter keynote at a technology conference.
Janet Gregory is an agile testing coach and process consultant with DragonFire Inc. She is the co-author with Lisa Crispin of Agile Testing: A Practical Guide for Testers and Agile Teams (Addison-Wesley, 2009), and More Agile Testing: Learning Journeys for the Whole Team (Addison-Wesley 2014. Janet specializes in showing agile teams how testers can add value in areas beyond critiquing the product - for example, guiding development with business-facing tests. Her peers voted her as the Most Influential Agile Testing Professional Person in 2015.
Susan Bligh has been in the IT industry for 20 years and has an enthusiasm for business process and operational excellence through the use of technology. She has previously worked in all aspects of software development including programming, testing, business analysis, database administration, and training. She is passionate about bringing people together to learn from each other in the forms of mentorships, communities of practices and high performing operational and project teams. Susan was a panel member for a discussion about Community of Practices at the BA World conference and has a published article "How My Role Models Led Me to a Career in IT and Helped Me Create Work-Life Balance".
Together, Janet and Susan will explore in their keynote "From Fairy Tales to Serious Stuff - Two Generations in Tech" the changes through two generations in technology. In the 1980s, when Janet first started her degree in Computer Science, home computers were a luxury. Today we see one in every child's hand. In the 1980s, many women were just starting to have careers. Nowadays, more and more women pursue a career in technology. Janet and Susan share their thoughts on how we can all act as change agents and lead the continuing evolution in a good direction. As the technology professions become more diverse, everyone benefits.
Don't miss this keynote! We look forward to seeing you there!


8 May, 2018
Can't-Miss Keynote with Wim, Eddy & Matt
We are happy to announce that Wim Heemskerk, Eddy Bruin and Matthew Heusser are part of our keynote speaker line-up for Agile Testing Days 2018.
Wim is an Agilist, Craftsman, Wave Maker, who believes in the great things humans can accomplish. Therefore he helps organisations multiply the value they create by embracing the full power of the people in and around them though facilitation, coaching, training, and mentoring.
Matt is the Managing Director at Excelon Development. The lead organizer of TestRetreat, a former board member of the Association for Software Testing, co-author of "Save Our Scrum", Senior Editor for "How To Reduce The Cost Of Software Testing", winner of the Most Influential Agile Test Professional Person Award 2014 and Most Popular Contributor to Agile. Matt has spent his 20-year career dancing around quality while staying current as the field evolves.
Eddy has a passion to be in the midst of business, end users and IT. Besides having a strong technical basis, he also possesses analytical and "can do" mentality. This makes him a good interlocutor on any level. As test consultant Eddy has brought the testing at customers to a whole new level. He has a passion for improving the quality of a product and the improvement of the (agile) software development process. As an Agile Coach he has helped lots of units by adopting Agile in their process from a pragmatic point of view.
In their keynote "From Inspiration to Change", Wim, Eddy and Matt will talk about what you are going to do to take the ideas you learned at the Agile Testing Days, implement them in your organization, and make them stick. After a brief discussion of the speakers' experience creating change, audience members will learn how to identify their sphere of influence, a method to pull ideas from the conference, prune them, select the powerful few, socialize them in the team, get them started, then promote and grow the ideas in the organization.
Join us this year for the 10th edition of the Agile Testing Days and leave with your list of ideas to try on Monday at work.
3 May, 2018
Can't-Miss Keynote with Faiza Yousuf
The team of the Agile Testing Days is delighted that Faiza Yousuf will held a keynote at Europe`s greatTEST agile testing festival.
Faiza Yousuf is a Technologist and has been working in the tech industry for the past 8 years. She is an entrepreneur and is currently running a business consultation company with the focus on helping small businesses in embracing technology. Another recent project is a community with a goal to devise strategies for creating an accepting environment for local women technologists. It's a Women only community so that members can talk freely about issues, seek opportunities, find mentors and form collaborations.
Faiza is a graduate and post graduate from NED University, Karachi. She also graduated from World bank funded WomenX Pakistan program. She recently worked as an IT skills trainer for a USAID funded program which focused on Gender Equity and Women Empowerment. She teaches technology to CS grad students and loves to read and write.
In her keynote "Agile Transformation with Remote Teams", Faiza will discuss possible challenges from agile transformations in detail and will talk about the strategies employed to ensure that teams embrace the change with openness and foster shared leadership. The talk will also discuss the importance of picking up the right tech stack and the inability of these tools to solve human problems. Don't miss this keynote and learn to create shared values and language, 101 informal discussions and to use better communication technology.
We look forward to seeing you there!
3 May, 2018
Ashley Hunsberger & her Can't-Miss-Keynote
We are thrilled to have Ashley Hunsberger speaking at the Agile Testing Days 2018.
Ashley Hunsberger is a Product Quality Architect at Blackboard, Inc, a leading provider of educational technology, where she helps establish and drive testing practices throughout the organization. She loves sharing her experiences in testing and engineering productivity through blogging and speaking at conferences around the world. A proponent of open source, Ashley believes in giving back to the software community and is passionate about diversity and inclusion throughout the industry.
In her keynote "Transforming Culture with DevOps Principles", Ashley will describe how using DevOps principles — collaborative practices, iterative improvements, incremental testing, and more — can transform the development culture so everyone owns quality. Big change does not happen overnight, but smaller changes support the overall vision. Ashley will share examples of how to implement a continuous delivery pipeline, illustrating the reduced feedback loops that led to better, faster software delivery. Join Ashley as she will lay the groundwork for iterative and continuous improvement through a defined mission and specific goals at the Agile Testing Days this November in Potsdam.
27 Apr, 2018
New Can't Miss-Keynote with Selena Delesie
We are pleased to have Selena Delesie, presenting her keynote "The Heart of Innovation", at the Agile Testing Days.
Selena Delesie is a leadership and transformation coach, speaker, author, and trainer. She is a trusted guide for leaders who seek to improve their business and their life — from the heart. Selena blends sixteen years of experience in the technology industry with a broad range of studies, allowing her to support powerful transformations for individuals, teams, and organizations. As the founder of Lead With Love Global and Women Ignited, Selena offers a variety of transformational programs, a virtual leadership conference, podcast, and mystical healing circles. Her clients rave about breaking free from traditional beliefs and practices to engage their strengths and passions — and those around them — for success.

Selena's keynote will explore the power of the heart to cultivate innovation and success. True stories and secrets of these incredible leaders are shared to inspire and invite you to apply simple approaches to cultivate powerful shifts at work. This is the game changer you didn't know you were looking for. If you want to learn more about what it takes to retain the most incredible people or what leads to customers and clients who rave about your company, then join us this November in Potsdam, Germany.
26 Apr, 2018
Gitte Klitgaard and her very personal Can't Miss-Keynote
We are happy that 'Unicorn Master' Gitte Klitgaard will join us as a keynote speaker at this year's Agile Testing Days.
Gitte Klitgaard is an agile coach, hugger, friend, and much more. She lives and loves agile. Gitte wants to change the world by helping people make the right product, doing it right and very important: have fun doing it. She has a great interest in how people function, how the brain works, what motivates us, how we can feel better about our selves, how to be perfect in all our imperfections.
Her keynote "Feeling Safe to be Uncomfortable" is a very personal one. Based on her own experiences, Gitte will show you how true growing and learning comes from the outside by leaving your comfort zone and how you can create a basis for growth. Learn from Gitte's story about growth, learning, psychological safety and the importance of feeling included at the Agile Testing Days this November in Potsdam, Germany.
24 Apr, 2018
New Can't-Miss Keynote with Peter Caron
For more than 20 years Peter Caron has worked in software development and deployment, system administration, operational support services and most recently in corporate transformation. With extensive senior-level management experience, he has actively developed advanced technical applications and is highly experienced in systems and network administration with a focus on both technology integration and continuous integration/continuous delivery.
In his keynote "Quality Transformation", Peter Caron will shed light on the question what the role of the next generation of QA in DevOps and the CI/CD world is. He will focus on the challenges of transitioning from old style QA to the next generation of QA services. There is a technical component to the transformation as well as management and culture elements which need to be addressed collectively. Peter will present some steps which companies can take to ease the transition from an old style, inspection QA to a Next Generation proactive QA well-integrated with development and with Operations.
Learn more about the challenges when moving to the next generation QA! we look forward to seeing you there!
24 Apr, 2018
Can't Miss-Keynote with Alex Schladebeck & Huib Schoots
It is a great pleasure to announce that the last year's MIATPP Award winner Huib Schoots teamed up with Alex Schladebeck to present the keynote "Let's stop talking about Testing" at the Agile Testing Days 2018.
Huib Schoots is a tester and consultant who loves to share his passion for testing with people by doing projects and through consultancy, coaching, training, and giving presentations on a variety of test subjects. With almost 20 years of experience in IT and software testing, he is experienced in different testing roles. He is curious and passionate and he tries to read everything ever published on software testing.
Alex Schladebeck is the head of Software Quality and Test Consulting at BREDEX GmbH. Her passion is communicating with people in IT projects, most specifically about quality. She works with customers, testers, users and developers to help them improve quality in their projects and processes. Her main areas of interest are quality in agile projects, communication, training testers and test automation. You'll usually find Alex talking about quality and how it affects the whole development process. She's also a frequent speaker at conferences where she likes to share her project experiences and learn from other practitioners.
For a very long time now, there is still the discussion whether testers are needed or not. In their keynote, Alex and Huib will share their view on the role of testing, what testers do and how a shared quality mindset can help to deliver the value the client needs. If you want to learn more about the key to "bringing people together: being able to communicate effectively about quality and building bridges between many different stakeholders who do not speak the same language", then join Alex and Huib at the Agile Testing Days 2018 this November in Potsdam, Germany.
20 Apr, 2018
Can't-Miss Keynote with Rhian Lewis
Rhian Lewis is a freelance software engineer specialising in test automation who has worked on projects for some of the world's best-known brands since 2009. She has been deeply involved in the cryptocurrency and blockchain community since 2013, as the co-developer of altcoin portfolio tracker CountMyCrypto and the co-host of London Women in Bitcoin. She writes about blockchain tech and is a regular speaker on the subject, especially in the context of testing.
Her keynote "The Blockchain Paradox" will deal with how blockchains work in their current form, how they may work in the future and its impacts on the role of the software tester. Blockchain technology is different from anything that has come before; there is much functional testing that needs to happen before many of the applications are production ready - but along with functional testing comes the responsibility to consider the ethical problems that will occur. Rhian will discuss whether technology like blockchains and AI are utopian or dystopian. Her keynote will also focus on the role of the tester as the gatekeepers in ensuring that this exciting new technology is used in a responsible way.
If you want to learn more about decentralised technologies that can be a force for good and how they can empower individuals to control their own data, then come to the Agile Testing Days 2018 this November in Potsdam. See you there!
20 Apr, 2018
David Evans and his Can't-Miss Keynote at AgileTD 2018
We are very happy that David Evans, an AgileTD speaker and attendee since the very beginning of our conference, will join us as a keynote speaker at this year's Agile Testing Days.
David Evans is an experienced agile consultant, coach and trainer with over 25 years of IT experience. A thought-leader in the field of agile testing, he has provided training and consultancy for clients in the UK, USA, Ireland, Sweden, Germany, France, Australia, Israel, South Africa and Singapore. He is also a regular speaker at events and conferences across Europe, especially at the Agile Testing Days.
His keynote "Ten Years of Agile Testing Days" is very special as it will be a tour of highlights from his talks at Agile Testing Days, as well as a quick history lesson to help you understand why our conference is unlike any other, and why it draws so many people back each year.
Learn more about the mythology behind the Agile Testing Days and finally find out what's it all about the unicorns. Join us this November! We're looking forward to see you there.
19 Apr, 2018
Can't-Miss Keynote with Lanette Creamer
We are happy and delighted that Lanette Creamer will speak as a keynote speaker at this year's Agile Testing Days. You should know that Lanette Creamer likes testing software even more than Diet Coke and cats. After working for a decade at Adobe, Lanette jumped into independent consulting. Throughout her career, she has evangelized advancement of real-time human thought over process solutions in software quality. Lanette believes collaboration is a powerful solution when facing complex technical challenges.
In her keynote "Test Like a Cat", you will learn from the cutest murder machines on earth how to be more awesome at agile testing. According to scientists, cats have acquired many adaptations throughout history; they also regularly experiment. Like cats, agile testers may share separate territory, be a part of a larger group, or be a lone feral practitioner in the wilds of a project.
Learn more about how you can succeed when you test like a cat at Agile Testing Days 2018. We look forward to seeing you there.
19 Apr, 2018
New Can't-Miss AgileTD 2018 Keynote with Trish Khoo
Trish Khoo is a consultant with a great experience in software engineering with a focus on team productivity, tools and infrastructure, test automation, risk mitigation and organizational change. She helps teams with productivity, test automation, development processes, deployment or software quality. She is also a frequent keynote speaker and regular-sized speaker at international events. Her curiosity and passion for software development and testing has led her career to big corporations, small businesses, product development, consulting, public sector and government organizations.
In her keynote "Transparency: A Holistic Approach to Software Quality", Trish explains at the Agile Testing Days how shifting focus from testing to transparency can turn an ordinary tester into a super tester. She will answer the question how else can a tester increase transparency of the system under test with powerful results.
18 Apr, 2018
Can't-Miss Keynote with Anne-Marie Charrett
Anne-Marie is an internationally recognised expert in software testing and quality engineering, a trainer and coach with a reputation for excellence and passion for quality. She trains and coaches teams to help embrace the whole team approach to quality with a contextual mindset. She is a frequent keynote speaker at international conferences on the topic of Quality, Coaching and Leadership. She has also developed a coaching testing model in association with James Bach, which transfers testing skill and know-how using the Socratic method.
In her Keynote "Is your Quality on the Road to Nowhere?", Anne-Marie will look at some ways to better understand quality, what it means to you, your team and business partners. She will look at ways to frame quality in terms of business outcomes to help you keep on the right track. It will show ways to visualise quality so everyone can see where you are on your journey.
Don't miss this keynote and join us for the 10th anniversary of the Agile Testing Days. We can't wait to welcome you!
18 Apr, 2018
Can't-Miss AgileTD 2018 Keynote by Jeff Sussna
We are pleased to start our Can't-Miss Series of AgileTD 2018 keynotes with Jeff Sussna and "Harnessing Change for Competitive Advantage".
Jeff Sussna helps companies build continuous learning cultures by integrating Agile, DevOps, and Design Thinking. He is also the author of the book Designing Delivery: Rethinking IT in the Digital Service Economy. Jeff Sussna is an internationally recognized IT coach and design thinking practitioner, helping digital organizations improve service quality through effective collaboration.
His keynote "Harnessing Change for Competitive Advantage" will introduce a truly unified approach to design, development, and operations that goes beyond merely bolting them together. It will explore the shared heritage of Agile, DevOps, and Design Thinking in order to create a deeper understanding of what it means to deliver value. It will present the view that by making design a continuous part of everything we do, we can fulfill the Agile promise of harnessing change for competitive advantage.
The keynote is not to be missed and will provide a great platform to the wider range of speakers and topics that will be discussed at the Agile Testing Days.
We look forward to seeing you at AgileTD 2018 in Potsdam, Germany, on November 12 - 16, 2018.
5 Apr, 2018
The AgileTD 2018 Call for Papers is over!
The Call for Papers is closed and we are completely blown away by the amount of submissions we have received this time. We had a fantastic response to our call for papers. You are all truly amazing.
540 papers from 51 countries and 398 speakers were handed in. That is a new record.
We want to say THANK YOU for all your hard work and time in writing so many great proposals. The program chair was very impressed by the depth and breadth of the papers. It will be a tough job to find the best ones. Nonetheless it's a real joy to see how much Agile Testing Days is loved by the agile testing community.
What's next? Our program chair is busy reviewing the submissions, and once we have an answer, we will send an email to all those that have been selected as speakers. We look forward to sharing an incredible program with you in May.
In the meantime, spread the word about our conference, follow us on Twitter, Facebook or Linkedin, or head over to our Youtube Channel and revel in memories about AgileTD 2017 and get excited for the anniversary edition of the Agile Testing Days 2018 this November.
15 Feb, 2018
Agile Testing Days 2018 Call for Papers
The Call for Papers for Agile Testing Days 2018 is open now!
If you love speaking at conferences or want to give your first talk ever, Agile Testing Days is the best place for it. Irrespective who you are, where you are from and what you do, we want to hear your story. It is you and your story that make Agile Testing Days what it is.

We are looking for new ideas and learning points, fresh approaches to challenges and innovative ways to solve problems in the field of Agile, Testing, Leadership, Scrum, DevOps, Mobile, IoT, Quality Assurance, Cyber Security and Personal Improvement.

In total we need to fill 150 open session slots for 30-minute talks, 120-minute and 150-minute workshops. So, put on your thinking hat and share your story, your experience, your passion for a specific topic with us.

We call for the entire community of agile and software experts – testers, software architects, developers, quality assurance manager, coaches, trainers, managers – to contribute and submit a proposal for the Agile Testing Days 2018 in Potsdam.
Submit your idea now!

The Call for Paper closes April 1st, 2018! That is not an April Fool's joke!
7 Aug, 2017
Support Afghan Girls Robotics Team
With your donation you can help a Girls Tech & Robotics Team from Afghanistan to join our Conference!
21 Jul, 2017
MIATPP Voting is online!
Vote for your MIATPP 2017 and win an AgileTD free ticket.
12 Jun, 2017
AgileTD Community Talk Voting finally Online!
You decide which sessions will become part of the Agile Testing Days 2017. Vote now win a free ticket!
16 May, 2017
Early Bird Prices are now available!
The AgileTD Early Bird price hunt ends on Sept. 10, 2017. Catch & save up to € 275!
9 Apr, 2017
The Call for Papers is closed!
We received an amazing huge amount of more than 400 papers. The program of 2017 will be announced soon!